Stillwater River Fishing Trips
Stillwater River Fishing Trips
I won't bury the lede: The Stillwater River offers the best dry-dropper fishing for numbers of trout of any body of water within our operations area. Full stop.
At Parks' Fly Shop, we mostly float the Yellowstone River. We do offer Montana float fishing trips on three other rivers, though: the Lower Madison, Boulder, and Stillwater Rivers. The Lower Madison is our go-to float river in late May and June when the Yellowstone is muddy, Boulder River float fishing trips are possible in early May, June, and July, and the Stillwater is a great option from early July into September and sometimes through the fall. In this series of blog posts, Walter will discuss our float fishing trips on these rivers.
This is the third and final entry in this series, covering Stillwater River fishing trips. The first entry covered the Boulder River. The second covered the Lower Madison River.
Visit this page for more information on our float trips.
Introduction to Stillwater River Fishing Trips
Season: Late June or early July through August in low water years. In normal or wet years, the Stillwater can remain floatable until late October or later. Flows need to be above 450cfs for the lower float section to remain floatable.
The Fishing: While we do some streamer fishing and hatch-matching on Stillwater River fishing trips, the vast majority of the fishing is with grasshoppers or large attractor dries with fast-sinking attractor nymph droppers.
The Fish: While there's an outside chance of Yellowstone cutthroat and brook trout, particularly on the upper float stretches between Nye and Absarokee, the vast majority of the trout here are rainbow and brown trout. Most fish run 8 to 14 inches, but we'll usually see a few up to 18 inches. In late summer and fall, there's potential for fish to 24 inches or more in the lower couple miles of the Stillwater that have come upstream from the Yellowstone. Almost all fish on the Stillwater are fat, healthy, and fight well for their size.
The Boat: The Stillwater River is a fast, turbulent, rocky, shallow river with numerous small rapids and several very big ones. As such, all Stillwater River fishing trips use the raft. Depending on client interests and goals as well as water levels, we may also get out to do some wade fishing.
I have never had even an "average numbers" day here. On most trips, two clients of intermediate or better skill can expect at least 100+ strikes between them, and fifty fish in the boat is common. That said, unless we hit an uncrowded day in July, the larger rainbows in the lower couple miles of river are crushing hoppers in August, or we hit the fall-run brown trout just right in late September or October, most trout will run 8 to 14 inches. Depending on the float we choose, we sometimes float a couple miles of the Yellowstone downstream of the Stillwater's confluence with it. Larger fish on average can be found on this portion of Stillwater River fishing trips, allowing for days where we get our numbers early and then finish up trying for a couple big ones.
The Stillwater River offers one to five good float-fishing stretches depending on flows and how we opt to fish. Basically, if flows are high and we opt to stop to wade fish a lot, there are more possible trips, whereas if we opt to fish from the boat when flows are low, only the lower portion of the Stillwater out into the Yellowstone makes sense. Because the Stillwater is a long way from Gardiner (and even from Livingston), we usually opt to fish the first float upstream of Absarokee when flows are high and the lower float(s) downstream of Absarokee when flows are low.
The Stillwater is fast, rocky, and turbulent, which means casts must be accurate and line management must be good. Therefore float-fishing is tough for beginners and novices. That said, when flows are low, we can "run and gun" on Stillwater River fishing trips and use the boat as transportation and do most of our fishing wading. Such trips are suitable for novice anglers, though not really beginners.
The Stillwater enters the Yellowstone near Columbus, Montana, about 75 miles east of Livingston. The Stillwater River float that takes out on the Yellowstone in Columbus itself begins another 15 miles up the road, and other floats are father away yet. Thus you should plan for a 2+ hour drive to fish the Stillwater if you're staying in Gardiner, roughly 45 minutes to meet your guide in Livinston, roughly an hour to Columbus, and roughly fifteen minutes to the launch. For this reason, staying in Livingston (or even Bozeman), Big Timber, Columbus, or Absarokee make MUCH better sense than staying in Gardiner, though the trip can work from Gardiner if you're willing to hit the road at 6:00AM or thereabouts. Clients staying anywhere in YNP besides Mammoth should expect A LOT of windshield time.
The travel time is the only issue we don't guide here much more. Walter is making it one of the pillars of his personal business for 2021, but that business is centered on Livingston rather than Gardiner, which makes it a lot easier.
Introduction to the Stillwater River
The Stillwater River begins in the Beartooth Mountains north of Yellowstone National Park, just over the "hill" (really 11,000-12,000+ foot mountains) from the headwaters of Slough Creek. It starts off flowing north from the mountains, then gradually curves northeast and finally east-northeast before joining the Yellowstone upstream of Columbus. Its total journey is more than 60 miles. Approximately the lower 35 miles of the Stillwater are floatable, from Buffalo Jump FAS near Nye downstream to the Yellowstone.The remote headwaters offer good fishing for small trout, mostly brookies, but require significant hiking and rock-scrambling to reach.
The section from Buffalo Jump FAS to Moraine FAS has the shortest season, only about three weeks in length. The season is slightly longer from Moraine to Cliff Swallow FAS and longer yet from Cliff Swallow to Jeffrey's Landing FAS. Only the 14-odd miles downstream from Jeffrey's Landing is typically floatable after late July or early August. This lower section begins at the confluence with Rosebud Creek, which is almost as large as the Stillwater itself and runs higher than the Stillwater later into the summer.
In effect, the best sections for Stillwater River fish trips split by season and flow. When flows are higher than about 2000cfs as measured at the gauge at Absarokee, the fishing is better upstream of the Rosebud. When flows are between 2000 and 1000cfs, fishing is good throughout, though float-fishing can get tough due to exposed rocks upstream from Cliff Swallow FAS. Once flows drop below 1000cfs, floating above Jeffrey's Landing gets gradually more difficult and then basically impossible by the time flows hit 750. From 750 down to 450, the Stillwater is only floatable downstream of Jeffrey's Landing and even this section often requires the guide and sometimes even requires clients to get out and help drag the boat over shallow areas. In addition, a nasty rapid called Beartooth Drop is easily floatable above 1000cfs but below that may demand clients wade around it while the guide rows an empty raft over the drop.
In dry years, the lower portion of the river gets too low for us to run Stillwater River fishing trips during the last ten days of August. In normal years, late September is pretty safe. In wet years, or even when fall rains help raise flows, we can continue fishing the lower Stillwater off-and-on through October. For reference, 2019 saw the lower Stillwater good to go except for a week or so through fall, while 2020 (a much drier year) saw it get too low intermittently around September 10 and then get too low for good around October 1.
The Stillwater remains a good wade fishery no matter how low flows get, though since public access points are somewhat limited, we do not run Stillwater River fishing trips after flows get too low to float, or at least use the boat for transportation.
The entire Stillwater River is fast-flowing and rocky. Even the "gentle" stretches near Absarokee and in the last mile or so feature short pools punctuated by heavy riffles and runs. Much of the river is almost continuous pocket water, especially when flows are high. There's a suspicion that the river's name is therefore a joke. In many respects, the Stillwater resembles a larger version of the Boulder. One difference is that the Stillwater has longer stretches or riprapped banks, primarily in its lower reaches.
Despite its fast-flowing and rocky nature, the portions of the river on which we run floats primarily flows through a broad and very pretty valley lined with cottonwoods, hay meadows, and homes. As the river approaches the Yellowstone, it begins cutting down through rock ledges, which make for the heaviest rapids on the lower river (the upper river is also wild) and also makes for a few "cliffy" stretches where one bank at least fishes like the river is down in a canyon.
The Stillwater River features excellent insect populations, both aquatic insects in the river and terrestrial insects in the hay meadows and bushes. Stoneflies are probably the most important aquatic insect, no surprise given the river's fast and rocky nature. Salmonflies are uncommon, but Golden Stoneflies, Nocturnal Stones, and Yellow Sallies are numerous. The Nocturnal Stones (Midnight Stones) often hatch late into September, which is one reason large attractor-hoppers like Chubby Chernobyls and big Bob Hoppers work so well. In July and early August, tan caddis and PMD can also bring up good numbers of fish, while in September Tan Drakes and BWO may interest the fish. In regards to terrestrials, while you can fish ants with success on the Stillwater, there's seldom any need to do so. The fish love hoppers in August and September on Stillwater River fishing trips.
It is uncommon to see more than one or two other guides per day on the Stillwater. This is due to the distance from Livingston and Bozeman. Simply put, most guides (and many clients) would rather not drive so far. That said, the Stillwater enters the Yellowstone only 45 miles from Billings, Montana's largest city, and both Columbus and Absarokee are good-sized towns either on or only a few minutes from the Stillwater. In addition, Red Lodge is less than an hour away and is a popular summer resort community. This means that wade anglers are common sights near the public access points. Kayakers aren't unusual no matter the water level, and recreational rafters are numerous on the weekends downstream from Jeffrey's Landing when flows are about above 1000cfs. This said, total river traffic is a fraction what it is on the Yellowstone and Madison.
Fishing the Stillwater River
Except when the river is still up in the bushes, when we're fishing with novice clients, or when we're trying for bigger brown trout, dry-dropper tactis are our bread and butter on the Stillwater. In July this means a big Chubby Chernobyl or the locally-loved Jack Cabe (sort of a tan-winged, oversized Trude, pictured below) trailing a heavy Yellow Sally nymph or caddis pupa. In August and early September, we'll usually fish Big Bob Hoppers with slender but heavy jig-style nymphs that can either represent small stoneflies or mayflies.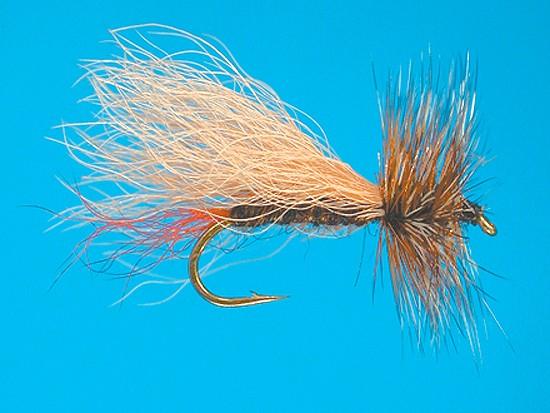 Match-the-hatch fishing is limited on our Stillwater River fishing trips, but we'll often fish some sort of small attractor dry suggestive of the insects we're seeing on the dropper instead of the nymph, especially when the fish are rising well. Good choices in this category are Clacka Caddis in July and early August or Purple or Copper Hazy Cripples in late August and September. During hopper season, we'll sometimes go double hopper (that's a hopper with a hopper dropper, in case you were wondering. Only two hoppers at a time to stay legal in Montana, though.)
When we're trying for larger fish, we'll oven throw medium-sized streamers for a while. This is most likely on the lower river in the fall. Zonkers and Woolly Buggers are good bets. No need to get fancy.
Nymphing is not really on the table most of the time here. There's only three circumstances when we're likely to nymph:
When we have beginner-novice clients.
When we are floating for the first week or so after runoff when the river is raging high and not clear.
On the lower river when we're targeting fall run browns in late September and October.
More than any one fly, the real ticket here is accuracy. The fish relate very strongly to structure, particularly in July and early August when the water is still rather high. Expect your guide to harangue you if you're not hitting your spots. If you do hit your spots, you might catch more trout on a day on the Stillwater than you ever have in a day of fishing.
Did I pique your interest?